"Kick Off Your Shoes" was released in March 2015. The album offers a collection of jazz songs mainly from the 1960's – from a time when jazz and popular music was one and the same.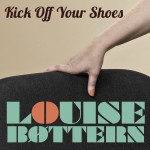 Jazz singer Louise Bøttern has always been drawn to the lesser known jazz tunes and particularly to the cool jazz from the 60's. The american popular songs of the time with a smart and clever wit are still rooted strongly in the jazz tradition. Among the 11 tracks are instrumental originals by Thelonious Monk with added lyrics.
Louise Bøttern was born in Denmark near Randers into a musical family. As a teenager she was singing Chicago blues in the band "Louis' Blues Machine". The blues led her to discover jazz singers like Sarah Vaughan and Carmen McRae and later Irene Kral, Deborah Brown and Nancy King. In fact; Deborah Brown did on two separate occasions compare Louise's voice to the one of Nancy King.
She studied at the jazz department of The Royal Conservatory in The Hague, The Netherlands and with dedication, hard work and training changed both her speaking and singing voice completely. Studying jazz singing with Rachel Gould and Anette von Eichel she graduated in 2004.
She has been taught by jazz greats as Barry Harris, Mark Murphy, Meredith d'Ambrosio, Sanna van Vliet, Fay Claassen, Deborah Brown and Bob Stoloff.
Now back in Copenhagen she is sharing her passion for singing in her private teaching practice 'Vokalrummet'. She has played concerts in The Netherlands and around Denmark and while planning upcoming events and doing concerts she is currently working on new material.
---
Reviews:
"Louise Bøttern comes through with flying colours and high quality, almost sails right through the not so easy Monk-pieces with perfect pronunciation and an apparent and natural swing deep down in the vocal treasury. It's hip and funny." – Henrik Wolsgaard-Iversen, Jazz Special
"One of the absolut best jazzy jazzrecords I have heard in a long while. Jazz exactly like I want it; unartificial and straight forward, sensitive, unheard melodious and filled with beautiful melody lines and last but not least humor, both in the singing and instrumentally. With notes clear as a bell she shows what a competent jazz singer she is." – Bo Ingvar Svensson
"Respect for the generally speaking untraditional material." – Martin Loft, Loftskammer
"Respects the original,.. knows what she wants with the great american songbook,.. a technically well performed vocal jazz album." – Niels Overgård, Jazznyt
"Modesty is her quality, she is honest and she has outgrown herself, and that was a hard task. .. What we saw was a very sympathic singer, entiger, a lot of atmosphere, intention, meaningful and for once we could understand what was being sung. She can really phrase and pronounce the text very well. She has good timing, she swings, she has taste, she can scat, she's beautiful…" – Conservatory exam jury
"Unique concert experience! We all sat there with goose bumps and a heartfelt joy to be experiencing this talent – for what a voice! A voice with a broadness and vocal range one rarely meets. A voice that could burn expressively regardless of where on the scale it moved." – Kristin Kristiansdottir, concert guest